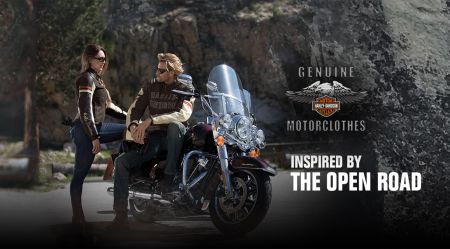 The Greatness of South Africa can be found alongside every road. And with the right gear, you can take on every epic ride and legendary location with pride. Mount up and see if for yourself in the Genuine Motorclothes® Collection. The official gear of the open road.
Helmets are the most important piece of safety gear. Statistics show that correctly fitted and worn helmets dramatically reduce the incidence of fatal head injuries, so it's essential to get the right one for you.
Our leathers are designed to give you exactly what you want, on and off the road, and include both modern and more vintage styles.
Born from a proud tradition of performance, our leathers will stand the test of time. These high-quality hides are dyed completely through the leather, so even if you scuff them, they continue to look great.
Nothing makes Riding more comfortable than a great pair of gloves. H-D® have a variety of gloves to choose from, finding the right pair of gloves is as easy as twisting the throttle.
Perfect for warm-weather riding, allowing for added dexterity and airflow. Perforated leather or mesh for maximum airflow
Perfect for moderate weather. Perforations increase seasonal use. Full-finger cover up to the wrist for added protection from the elements. Versatile for all seasonal riding.
Step into a Legend when you wear Genuine H-D® Footwear. Whether you commute to work or ride where the road takes you, functional extreme Footwear is innovative gear that integrates the best technologies and materials the industry has to offer to deliver protection and comfort for all-season riding.
Whatever the weather, these are must haves for safe riding. Whether it's about remaining comfortable when the weather's against you or being seen by other road users, our riding gear incorporates the latest technologies to provide you with all the protection you need for a safe ride.
SHOP ONLINE OR VISIT US IN-STORE TODAY TO SEE THE LATEST RANGE.